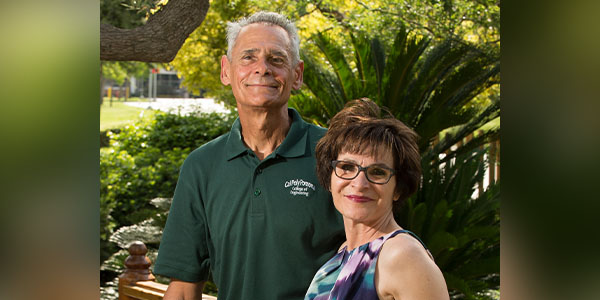 Alumnus and Wife Find Joy in Supporting the Programs They Love
Gerald and Cybel Maio: Partners in Giving
Donations are often as unique as the individuals who give
them. That's certainly true for Gerald and Cybel Maio,
who recently pledged a generous estate gift to support Cal Poly
Pomona in two very different ways.
Gerald, a College of Engineering alumnus, wanted to support his alma mater, where he earned his undergraduate degree in electrical and electronics engineering in 1972 and his master's degree in engineering technology in 1974. His education prepared him well to serve a six-year term as U.S. Naval officer aboard nuclear-powered submarines and, later, as he worked in commercial power plants, including San Onofre until it closed in 2013.
Part of the couple's gift will support the College of Engineering Student Competitive Design Team Labs, where students leverage their engineering knowledge to create and implement effective technical solutions. These labs are used by the nationally and internationally ranked Society of Automotive Engineers (SAE) Formula and Baja race car teams, groups participating in the Concrete Canoe and Steel Bridge competitions, as well as student teams that create different types of vehicles powered by alternative energy sources. "These competitions are very instrumental in giving students an idea of what engineering is actually like both the thrill of victory and the agony of defeat when things don't work out," says Gerald. "It's one thing to learn in the classroom, but it's also important for engineers to be able to actually fabricate, experiment and see how things work in a real environment because, when they get out of school, that's what future employers expect them to do."
Gerald's wife, Cybel, a devoted animal lover, had slightly different priorities. She chose to support the College of Agriculture and its planned veterinary clinic that will focus on the health and welfare of pets. She's been rescuing cocker spaniels for the past three decades, particularly older dogs with medical needs, and currently has four of her own.
Both agree that Cal Poly Pomona is the right choice for their estate giving and look forward to benefitting future generations of students through their gifts.