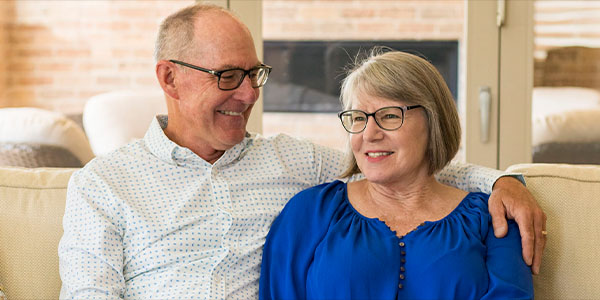 SUE & STEVE HESS PAY IT FORWARD
Both retired industry professionals and donors to the college
for more than three decades, husband and wife Steve
('76, mechanical engineering) and Sue Hess, who earned her
bachelor's in math at UC Riverside in 1975, have pledged a $1
million estate gift to support scholarships for students in need,
as well as educational facilities within the college.
Steve considers Cal Poly Pomona's learn by doing philosophy the catalyst for jump-starting and propelling his engineering career. The hands-on expertise he gained as a College of Engineering student helped him earn the respect of the paper manufacturing millworkers at his first mechanical engineering job at Kimberly Clark. Earlier experience at Potlatch also inspired his senior project-the design of a paper spooling mechanism for a Manchester paper machine. In 1978, Steve transitioned to the electric industry where he spent the rest of his career at Southern California Edison, Edison Mission Energy, and the Electric Power Group, in Pasadena. "I highly value the education I received at Cal Poly Pomona and strongly believe the College of Engineering is worthy of our support," says Steve. "The college prepared me with a foundation for a successful career in the evolving electric power industry, and it also prepared me to be a valuable contributor to society in general."
Paying it Forward
Steve and Sue had successful careers, and both were encouraged by annual giving programs at their former employers-Steve at Edison International and Sue at the Jet Propulsion Laboratory and the Capital Group. The couple gave both time and money to a variety of causes during their careers. Close and dear to both of their hearts and minds, Cal Poly Pomona was and still is a primary recipient of their charitable giving. "State-funded institutions don't have big endowments like many elite private universities but tend to serve a more diverse population," says Sue. While not a Cal Poly Pomona alumna, she grew up in Pomona, and studied and worked in the computer science industry. "Furthermore, students that attend schools like Cal Poly Pomona are often the first in their family to graduate from college, which is great."
For these reasons and more, Steve and Sue committed to an annual giving program with Cal Poly Pomona College of Engineering in 2018. "We decided to focus our resources on the College of Engineering since their mission meets many of our core values," says Sue. "We also liked the idea of directing our giving toward a scholarship or supporting a program or facility, so we can see the immediate results of our gifts."
The focus of their first estate gift was to sponsor an engineering student scholarship. "Our objective was to identify a student in financial need who was at risk of not completing their undergraduate degree absent of our financial support," says Steve.
In 2019, the couple chose to support the College of Engineering Femineer® Program. Created by the college in 2013, this program for K-12 students aims to inspire females to pursue STEM (Science, Technology, Engineering, and Math) in their education and career.
"I am hoping our support of programs like the Femineer® Program will encourage young girls to pursue these fields, since the middle and high school years are often crucial times in forming their opinions of what they can or cannot do," says Sue. "I am also looking forward to providing scholarships for women in engineering fields in the future."
Generating Opportunity
Both Steve and Sue came from middle class families that valued education, saved for college, and encouraged them to attend. Yet, even with their challenging academic schedules, they worked throughout high school and college to contribute to expenses.
"So many families today struggle to provide similar opportunities for their children," says Sue. "We want to help level the playing field for students that have the skills and desire to work hard at their education but may be lacking crucial financial support."
"I believe the dividends are high as beneficiaries become productive members of society and hopefully become role models themselves for others to follow." Sue continues. "Our scholarship recipient in 2018 so much as stated he expected to pay it forward when able.
"What a testament to the value of supporting individuals in need, who are willing to work at their education and the programs at Cal Poly Pomona," says Sue.